Fantasy and reality merge into one during OrbitFest, a freely accessible futuristic winter light festival.
The 5th edition of OrbitFest, a futuristic winter light festival will be held in Groningen on Saturday 21st & Sunday 22nd December 2019.

Man The Player / Homo Ludens
During the annual editions of OrbitFest we shine our light on a new festival theme.
The ground-breaking book 'Homo Ludens' ('Man The Player' ) by the northern Dutch historian and cultural theorist Johan Huizinga is a good reason to give game a prominent place in the festival's 5th edition. Huizinga's book provided a blueprint for ideas on the gamification of life.
Read more about the festival theme.
From admiring light to making it yourself
The theme of the previous edition of OrbitFest was 'Heliopolis, City of the Future'. From 15th till 17th of December between 15:00-22:00 visitors were able to experience the Groningen of the future with an expo of extraordinary lighting works along with experiments in the winter lab, flash talks and workshops. OrbitFest is a ColorC production, a foundation bringing northern art and society closer together.
The festival story
The winter light festival looks to the future for inspiration and, for this reason, the festival story serves as the basis for Orbitfest. Iki lives in Heliopolis, the Groningen of the future. Just like his fellow citizens, the young, ambitious adventurer is fascinated by the ancient Sun as well as brand new spaceships. Read the festival story.
Afterfilm OrbitFest: Heliopolis, City of the Future 2017: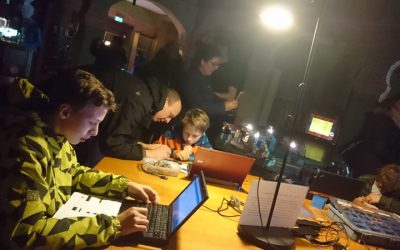 Op 21 & 22 december 2019 wordt Groningen opgeluisterd met een gratis toegankelijk programma van noordelijke makers en hackers tijdens het 5e OrbitFest: De Spelende Mens. Voor het ondersteunen van expositie met bijzondere lichtwerken en daaromheen lichtworkshops, flitslezingen, een winterlab met proefjes en een marktje zoeken we enthousiaste vrijwilligers..
Lees meer
Op 21-22 december 2019 staat ijs en weder dienende de vijfde editie "OrbitFest: De Spelende Mens" in de planning. Onze Call for Concepts staat open voor inzendingen.
Lees meer
Geen Resultaten Gevonden
De pagina die u zocht kon niet gevonden worden. Probeer uw zoekopdracht te verfijnen of gebruik de bovenstaande navigatie om deze post te vinden.
Stichting ColorC
Molenpad 4 9796PD
Sint Annen, the Netherlands
Tel. +31(0)644390667